Implementation Of "Decentralization"
A smart contract is a computer protocol intended to digitally facilitate, verify, or enforce the negotiation or performance of a contract. Smart contracts allow the performance of credible transactions without third parties.
Smart contracts help you exchange money, property, shares, or anything of value in a transparent, conflict-free way while avoiding the services of a middleman. Smart Contract forms the most integral part in any Blockchain. It has come to known as the backbone of automation in the entire process.
Vending Machine - Smart Contract Example
The best way to describe smart contracts is to compare the technology to a vending machine. Ordinarily, you would go to a lawyer or a notary, pay them, and wait while you get the document. With smart contracts, you simply drop a bitcoin into the vending machine (i.e. ledger), and your escrow, driver's license, or whatever drops into your account. More so, smart contracts not only define the rules and penalties around an agreement in the same way that a traditional contract does, but also automatically enforce those obligations.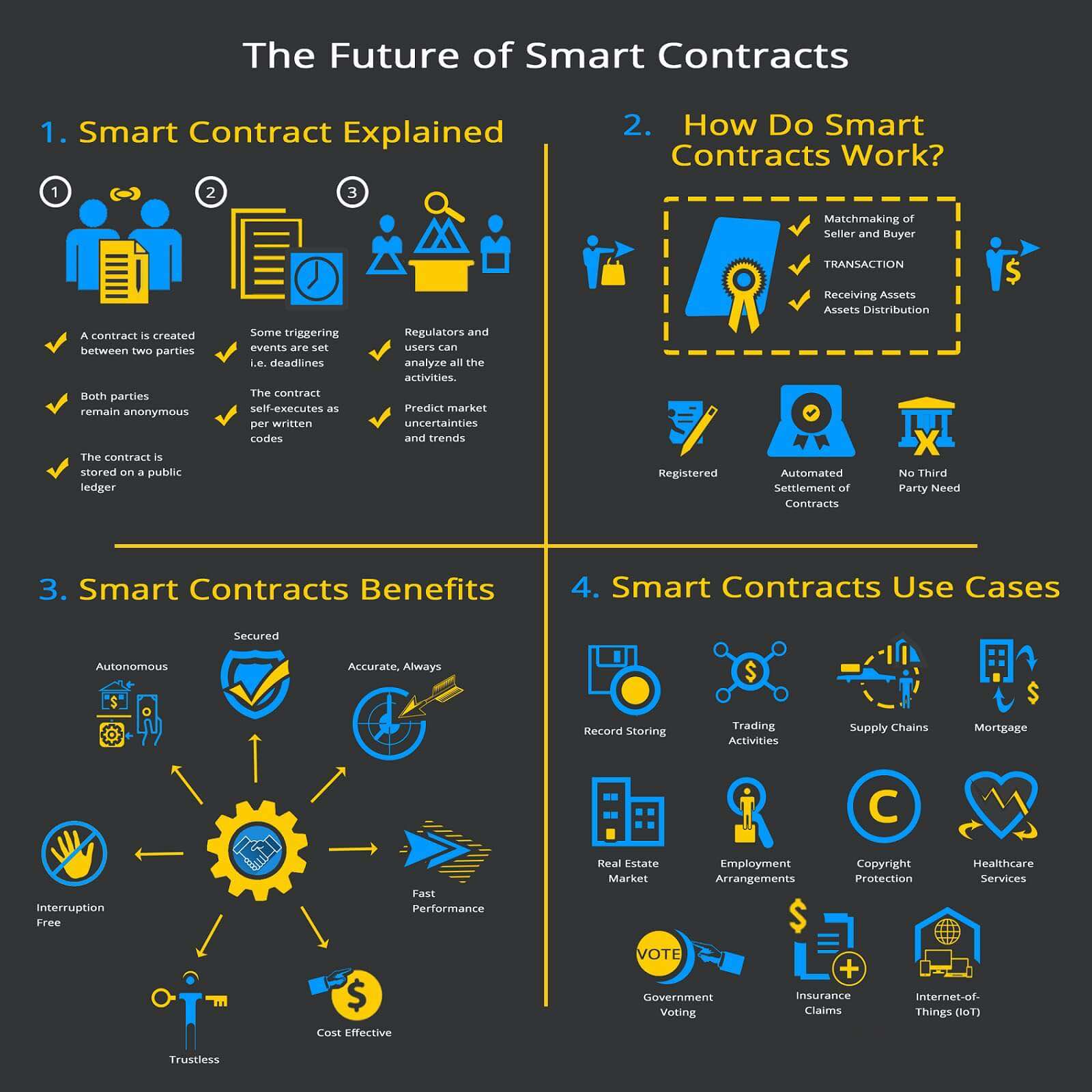 Exploring Usage In Governments
Insiders vouch that it is extremely hard for our voting system to be rigged, but nonetheless, smart contracts would allay all concerns by providing an infinitely more secure system. Ledger-protected votes would need to be decoded and require excessive computing power to access. No one has that much computing power, so it would need God to hack the system! Secondly, smart contracts could hike low voter turnout. Much of the inertia comes from a fumbling system that includes lining up, showing your identity, and completing forms. With smart contracts, volunteers can transfer voting online and millennials will turn out en masse to vote for their Potus.
Smart Contracts In Management
The blockchain not only provides a single ledger as a source of trust, but also shaves possible snarls in communication and workflow because of its accuracy, transparency, and automated system. Ordinarily, business operations have to endure a back-and-forth, while waiting for approvals and for internal or external issues to sort themselves out. A blockchain ledger streamlines this. It also cuts out discrepancies that typically occur with independent processing and that may lead to costly lawsuits and settlement delays.
The Fortis Advantage
Decentralized apps may not be the present but indeed, are the future. Starting with a decentralized app does not always work as it needs a community to support it. We may address this by building a private chain, to begin with, and move it to a public chain once the community is built.
Smart Contracts can be encoded on any blockchain, but Ethereum is mostly used since it gives unlimited processing capability.
Key Benefits of using Smart Contracts
Automated Monitoring
Transparent Recordkeeping
Reducing Middlemen Costs
Ease of Use in Internet of Things (IOT) Implementation
Transaction Automation
Our experts develop secure and proficient Smart Contract code to automate the execution of processes in Ethereum, Solana, Cardano using Solidity, Rust and HyperLedger Fabric.